Blueberry Milk Recipe
How to make Blueberry Milk? Here's the Korean Blueberry Milk Recipe. Blueberry Milk is extremely popular in Korea. Only 3 ingredients are required to make this – fresh blueberries, brown sugar, and milk.
Prep Time: 5 min
Cook Time: 0 min
Total Time: 5 min
Yield: 1 serving
Ingredients
125g blueberries
30g brown sugar
250g milk






Instructions
Wash the blueberries. Use a hand blender to blend 90g of the blueberries with the sugar to make a rough sauce. Stir in the remaining blueberries and cover with plastic wrap. Chill in the refrigerator for 1 hour.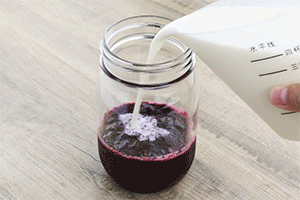 To make blueberry milk: Transfer the blueberry sauce into a serving glass and pour the milk in it. Stir the milk with a straw and serve immediately.
Note: I'm using a 450ml glass jar here.