Chinese Steamed Rice Cake with Toddy
This Chinese steamed rice cake "Fa Gao" or "Prosperity Cake" is made with very simple ingredients: rice flour, toddy, sugar and coconut water. The Chinese believes that eating these cake will bring good luck and prosperity. It is usually pink in color. You may add some food coloring according to your preference.
Prep Time: 6 hr
Cook Time: 25 min
Total Time: 6 hr 25 min
Yield: 6 servings
Ingredients
200g rice flour
160g sugar
200g toddy
200g coconut water (old coconut)





Instructions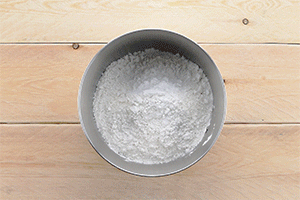 Combine rice flour, sugar, toddy and coconut water in a bowl and stir until the sugar has dissolved. Cover the bowl with cling wrap and leave for 6 hours.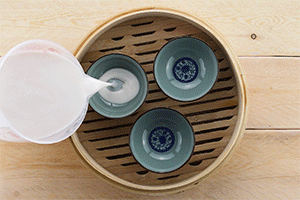 Heat the bowls in the steamer. Stir the batter. Pour the batter into the hot bowls (2/3 to 3/4 full). Steam at high heat for 25 minutes.