Egg Sandwich Recipe
How to make Egg Sandwich? Here's The Best Egg Sandwich Recipe Ever. This sandwich is perfect for picnics, lunch boxes, or even as an appetizer for parties! Also, it's super quick and easy to make.
Prep Time: 10 min
Cook Time: 0 min
Total Time: 10 min
Yield: 2 servings
Ingredients
4 slices bread
20g butter
2 hard boiled eggs
20g mayonnaise
pinch of salt
pinch of pepper powder



Instructions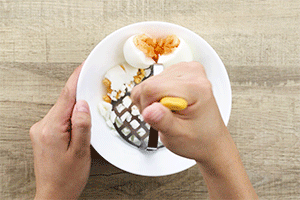 To make egg salad: Mash hard boiled eggs with a fork. Add mayonnaise, salt and pepper. Mix well.









Trim the edges off the bread slices. Spread a layer of butter on one side of each slice of bread. Lay a slice of bread on the counter and spread half of the prepared egg salad on it. Place another slice of bread on top and press lightly with hands. Repeat with remaining 2 slices of bread. Cut diagonally into triangles and serve.






To make hard boiled eggs: Put eggs in a pot. Cover the eggs with cold water and bring it to a boil. Once the water begins to boil, turn off the heat and cover the pot for 5 minutes. Transfer the eggs to a bowl of cold water, leave for 10 to 15 minutes.