Caramel Popcorn Recipe
How to make Caramel Popcorn? This caramel popcorn is moderately sweet, crispy and crunchy – a perfect snack to eat while watching movie! You don't need any cooking skills for this recipe, just a pot.
Prep Time: 0 min
Cook Time: 10 min
Total Time: 10 min
Yield: 2 servings
Ingredients
(A)
50g popcorn kernels
20g cooking oil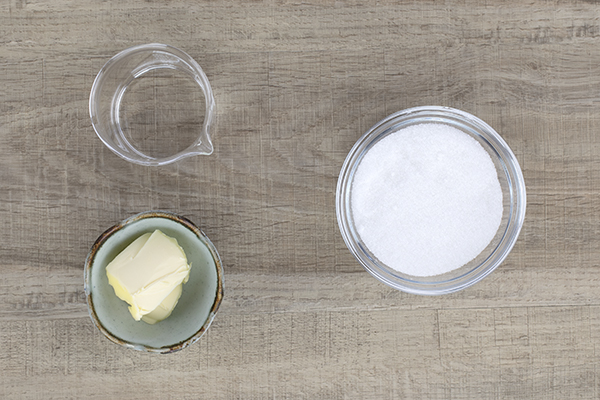 (B)
80g sugar
40g water
20g butter





Instructions
Ingredients (A)
Heat oil in a pot over medium heat. Add popcorn kernels to the pot. Once the kernels pop, cover the pot and shake intermittently until the popping stops. Remove the pot from the heat and transfer the popcorn to a large bowl.






Ingredients (B)
To make caramel: Put sugar and water in a deep frying pan. Bring it to a boil. Turn the heat to medium and cook, without stirring, until the sugar begins to turn golden around the edges. Swirl the pan gently to distribute the color and to ensure the sugar cooks evenly. When the color turns golden brown, turn off the heat and add butter immediately. Swirl the pan until combined.




Toss all the popcorn into the pan and mix until the popcorn is fully coated in caramel. Do this on the warm stovetop to prevent the caramel from setting as quickly. Once the popcorn is coated, pour the popcorn onto a parchment-paper-lined baking sheet and set aside to cool. Break up the popcorn with your hands and store in an airtight container.