Kaya Recipe
How to make Kaya? Kaya is a delectable jam made with coconut milk, eggs and sugar. I got this Kaya recipe from my late grandma. It takes only 10 to 15 minutes to make this. Everyone loves it!
Prep Time: 0 min
Cook Time: 15 min
Total Time: 15 min
Yield: ±350 grams
Ingredients
(A)
35g sugar
100g coconut milk








(B)
3 eggs (approx. 150g)
65g sugar
1 piece pandan leaf





Instructions
Ingredients (A) To make caramel:
Heat sugar in a pot over medium heat until it melts and turns golden brown. When the color turns golden brown, turn off the heat and add coconut milk immediately. Quickly stir with a balloon whisk until combined (otherwise the caramel will seize up and crystallize). Set aside to cool completely.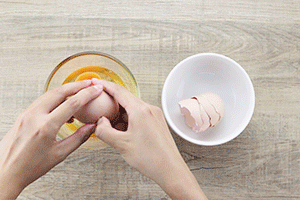 Ingredients (B)
Crack the eggs into a bowl and beat until well combined. Strain the beaten eggs through a sieve. Add sugar and mix well.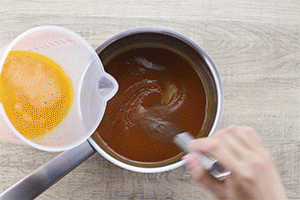 Pour the egg mixture into the caramel mixture. Mix well. Add pandan leaf. Double boil with low heat. Stir frequently until the mixture thickens (you can draw a line in the bottom of the pan), about 10 minutes. Remove from heat. The kaya jam can be eaten right away, or you can blend it with a hand blender (or a blender) until smoother. Pour the jam into a sterilized jar and leave it to cool. Seal and store in the refrigerator.