Japanese Cotton Cheesecake Recipe
Japanese Cotton Cheesecake is also known as jiggly cheesecake, soufflé cheesecake, or light cheesecake. It is a perfect combination of sponge cake and cheesecake in both taste and texture, and it will just melt in your mouth.
Prep Time: 15 min
Cook Time: 1 hr 05 min
Total Time: 1 hr 20 min
Yield: 1 serving (6 inch / 15cm round cake tin)
Ingredients
(A)
84g cream cheese
36g milk
24g butter (salted)
30g plain flour
9g corn starch
3 egg yolk (approx. 60g)




(B)
3 egg white (approx. 108g)
60g sugar






Instructions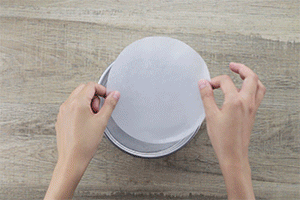 Line the bottom of the cake tin with baking paper.
Sift the plain flour and corn starch together into a bowl. Set aside.









Put cream cheese, milk and butter in a pot and heat until the mixture starts to smoke (do not boil). Whisk until evenly combined. Remove the pot from heat, add the plain flour and corn starch. Keep stirring until no more lumps form. Add the egg yolk in one by one and beat until well incorporated, scraping down sides as needed.
Tips: You can also use double boiling method to heat the cream cheese and butter mixture.



Beat the egg white until foamy. Add the sugar in 3 times and beat until soft peaks form. Add 1/3 of the meringue (egg white) to the yolk batter and fold with a spatula until well combined. Pour the yolk batter into the meringue and fold until well combined. Pour the batter into the cake tin. Tap the cake tin on table a few times to remove air bubbles.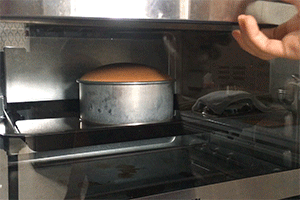 Water bath method: Put the cake tin into a deep baking tray. Pour 1-2cm deep of hot water into the baking tray. Bake in preheated oven (middle rack) at 120°C for 20 minutes. After 20 minutes, increase the temperature to 150°C and continue baking for 35 minutes, until the top changes to golden brown in color (after having baked for about 20 minutes, you can rotate the cake tin to help the cake get baked evenly). After 35 minutes, open the oven door for 10 seconds and then close back up. Lower the temperature to 100°C and continue baking for 10 minutes. After 10 minutes, turn off the oven. Open the oven door and close back up. Let the cake cool down in the oven for 10 minutes.
Tips: Chill the cotton cheesecake in the fridge for at least 4 hours for a better texture.