Burnt Cheesecake Recipe
How to make Burnt Cheesecake? Here's The Best Basque Burnt Cheesecake Recipe Ever. The original recipe only calls for five ingredients — cream cheese, cream, sugar, eggs and flour. Learn the original way to make this here.
Prep Time: 15 min
Cook Time: 45 min
Total Time: 1 hr
Yield: 1 serving (6 inch / 15cm round cake tin)
Ingredients
250g cream cheese
85g sugar
100g whipping cream
2 eggs
9g plain flour




Instructions
Line the cake tin with two layers of baking paper. Combine flour and cream in a bowl, keep stirring the mixture with a balloon whisk until no more lumps form. Set aside.








Cream the cream cheese in a bowl until smooth. Add sugar and beat until light and fluffy. Add the egg in one by one and beat until well incorporated, scraping down sides as needed. Add the whipping cream mixture and mix well.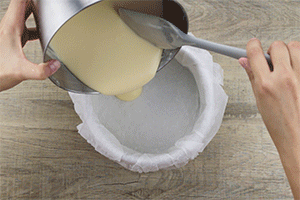 Pour the batter into the cake tin. Tap the cake tin on table a few times to remove air bubbles.









Bake in preheated oven at 200°C for 45 minutes or until the top changes to dark brown in color. Leave to cool on a wire rack. Keep in refrigerator overnight. Unmould and serve chill.